2014 USS L. Y. SPEAR (AS-36) Association Reunion
Join us in Chicago!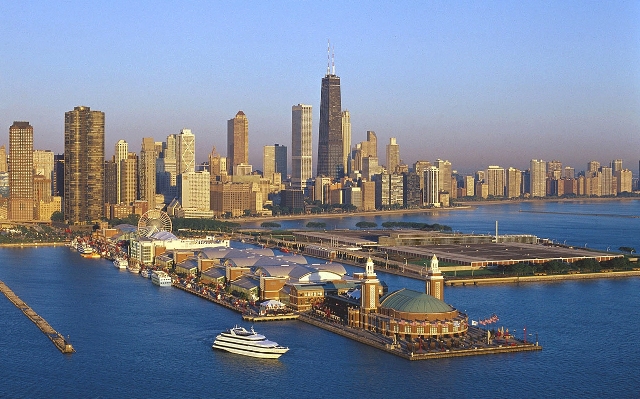 For our 2014 Chicago reunion, we will be going "Back to Boot Camp"! We will visit Naval Station Great Lakes for a tour of the base, shopping in the Navy Exchange, and to watch a boot camp graduation ceremony! A real treat, especially if you started your Navy career at Great Lakes! We need you to start digging out your boot camp photo for our Friday contest. If you don't have a picture from boot camp, find a photo of yourself during the earliest part of your Navy career. We will also be going on a tour of Chicago!
Join us for what promises to be another GREAT reunion! For an interactive map of Chicago, click here.
When:

September 3-7, 2014

Where:

Chicago Marriott Suites Deerfield

2 Parkway North

Deerfield, IL 60015

Room Rates*:

$85/Night for King or Double Queen Rooms

Rate is subject to all current local taxes. This special rate includes a hot breakfast for two each morning and complimentary wireless internet.

Reservations:

Phone: 847-405-9666 or 1-800-228-9290

*
When making your hotel reservation, be sure to mention that you are with the USS L. Y. SPEAR Reunion to receive the special negotiated rates. These rates are also good for 3 days prior to the reunion and 3 days immediately following the reunion. Please note that if you do not make your reservations through the group block, you may not receive the complimentary breakfast or complimentary wireless internet.

Click here for hotel's website.

To sign up for the Marriott Rewards Program, click here.

* IMPORTANT HOTEL INFORMATION *

The hotel reservation cut-off date is Friday, August 8th to get the negotiated room rate. After that date, the rooms will be released back into the hotel's inventory and you may not get a room or the discounted rate. There are only a limited number of rooms reserved at this special price, so please make your reservations as soon as possible.

*** BONUS ***

If you make your hotel reservations by Friday, July 11th, your name will be entered into a drawing to have one night's stay during the reunion for FREE! Drawing will be held at the final evening banquet, and you must be present to win.

* * *

Please note: This hotel does have a Debit Card Policy. Please contact the hotel directly if you need more information or further clarification on their Debit Card Policy.

---

AIRPORT INFORMATION

If you will be flying to the reunion, you will want to fly into Chicago O'Hare International Airport (airport code ORD). O'Hare is about 16 miles south of the hotel. You can also fly into Chicago Midway International Airport (airport code MDW), which is an hour or so south of the hotel.

You may also want to consider flying into General Mitchell International Airport (Airport Code MKE), in Milwaukee, WI, which is an hour north of the hotel.

If you do not wish to rent a car at the airport, there are flat-rate taxi options to take you from the airport to the hotel in Deerfield. The hotel recommends contacting either American Taxi (847-673-1000) or 303 Taxi (847-303-0303). Both of these companies are SUBURBAN taxis, and arrangements can be made in advance of your arrival. IMPORTANT: DO NOT TAKE A CHICAGO TAXI to or from the airport to the hotel - make sure you hire a suburban taxi - Chicago Taxis are very expensive to travel into the suburbs. Whichever taxi company you decide to use, make sure that they are a SUBURBAN taxi. American Taxi and 303 Taxi offer flat rates from O'Hare at around $30. Flat rates from Midway are around $60.

TOLL INFORMATION

Some of the interstate highways in and around Chicago have tolls. The manned toll plazas are on the highway, with unmanned coin baskets on the ramps. Both I-PASS and E-ZPass are accepted on these toll roads. If you do not have COINS to pay at one of the on/off ramps, a photo is taken of your license plate and you can pay these tolls by going to their website.

For more information about the Illinois Tollway system, you can go to their website or call them at 1-800-UC-IPASS (800-824-7277).

---

Reunion Starts - Wednesday, September 3rd (noon)

The 2014 Reunion begins with the opening of the Hospitality Room at noon on Wednesday. After checking into the hotel, come to the 7th Floor and enjoy some light snacks while visiting with your shipmates. Dinner will be on your own, but we always have a group that wants to go out to dinner somewhere.

---

REUNION TOUR - Thursday, September 4th

EVENT A: Tour of Chicago

(8:00 am - 5:00 pm)

Our day starts with boarding a luxury motor coach at the hotel

f

or a guided tour of the City of Chicago. No need to worry about traffic, finding a place to park, or walking long distances from parking lots - just hop on the bus and enjoy the ride! And visiting the sites is always more fun as a group. :-)

Our first stop of the day will be to visit the Skydeck Chicago. Located on the 103rd floor and 1,353 feet above street level in the Willis Tower (formerly the Sears Tower), the Skydeck offers 360 degree views spanning four states. The "Ledge" brings an exhilarating new experience by extending 4.3 feet from the skyscraper, providing a thrilling, once-in-a-lifetime experience!

(Red type denotes a change in schedule) After our visit to the Skydeck, we will stop at Portillo's for lunch where you can grab one of their famous Chicago-style Hot Dogs or another "local favorite" dish. Then on to visit the Navy Pier, which is Chicago's top attraction. Once used for shipping, naval training and even as a university, the pier has been converted to a shopping, eating and entertainment complex. The Navy Pier is currently undergoing a 3-year renovation project, but there is still a lot to see and do, and even grab a "cool one" at the Beer Garden while enjoying the view. The food court, as well as the restaurants, should be open during our visit if a hot dog doesn't fill you up.

Following our time at the pier, we will travel along scenic Lake Shore Drive to visit the Museum of Science & Industry, with more than 800 interactive exhibits, including top attractions Henry Crown Space Center, the new permanent exhibit, Science Storms, exquisite miniature marvel Colleen Moore's Fairy Castle, the enormous model railroad Great Train Story, the Silver Streak Zephyr, the Apollo 8 command module, and the U-505 Submarine (a German submarine captured during World War II).

After our tours, we will make a brief stop at the Submarine Tender to pick up submarine sandwiches and to make a presentation to the owners - from one submarine tender to another!

We should arrive back at the hotel between 5-5:30. Join us in the Hospitality Room for submarine sandwiches!

---

REUNION TOUR - Friday, September 5th

EVENT B: Tour of Naval Station Great Lakes & Recruit Graduation

(7:00 am - 3:00 pm)

For our trip to Naval Station Great Lakes, we will be boarding air conditioned SCHOOL BUSES! We wanted to save you some money and thought that you might enjoy this trip back to your childhood days when getting there was half the fun!

Your name badge must be worn while on both of our tours, but you also need to have your picture ID with you to go to Great Lakes. You won't be admitted on the base without it. Also, f

or security purposes, no photography of the Navy base is permitted. However, photography will be allowed during the graduation ceremony, lunch, and museum visit.

We must arrive at the base no later than 0730 to attend Recruit Graduation, which is why we will be departing the hotel so early. If we are not able to attend the graduation due space limitations (such as, if there are more than 11 divisions scheduled to graduate, since families of recruits have priority, etc.), we will not need to depart the hotel this early. We won't know for sure until at least 6 weeks prior to graduation day.

After graduation, we will visit the Navy Museum and have about a 15 minute "windshield tour" of the base.

Our lunch will be at the Port O'Call Banquet & Conference Center on base which overlooks Lake Michigan. We will enjoy a hearty buffet lunch of Spaghetti Marinara with Meatballs, Chicken Fettuccini Alfredo, Tossed Salad, Italian Vegetable Blend, Seasoned Breadsticks and Tiramisu.

Before leaving the base, we will stop at the Navy Exchange to do a little shoppin'! That's right, the good ol' NEX. Even if you don't have a DoD ID card, you may still make purchases with the exception of alcohol and tobacco products.

After our visit to Naval Station Great Lakes, it's back on the bus. We should arrive back at the hotel by 3:00 p.m.

"Back to Boot Camp" BBQ Buffet

(6:00 pm)

We will continue to celebrate boot camp and our shipmates with a "Back to Boot Camp" BBQ buffet. Do you remember "dungarees"? We sure hope so because we would love for each of you (veterans and guests) to wear a "dungaree" shirt to dinner. You may remember these being called "chambray" shirts or light blue denim shirts. This is NOT mandatory, just a suggestion to complete the evening. We will award prizes for best boot camp representation.

Our dinner selection will include Fresh Garden Salad, Smoked Beef Brisket, BBQ Chicken, Fresh Seasonal Vegetables, Baked Beans, house-made Potato Chips, Coffee, Tea & Water, and the chef's selection of Gourmet dessert

.

"Boot Camp Photo" Contest

Be sure to send in a photo of yourself (either via email or along with your Registration Form) from boot camp (or as close to that timeframe as you can) for the Boot Camp Photo Contest! The photos will be scanned and printed on 8 x 10 paper with a number for you to guess who the person is. Original photos submitted will be returned to their owners at the reunion.

---

Saturday, September 6th

Business Meeting (8:00 am - 9:00 am)

Our Annual Business Meeting will be held in the Hospitality Room. After that, the rest of the day is on your own

.

Group Photos (5:30 pm)

Be sure to get back in time to clean up for our group photographs. Muster in the designated area for our group shots (we'll post the location in the Hospitality Room).

Cocktail Hour & Banquet Dinner

After our photo shoot, join us in the Banquet Room to unwind with a drink or two. Cocktails will be available from the cash bar starting at 6:00 p.m. and dinner will be served at 7:00 pm. Our final evening's Banquet meal will be a plated dinner choice of Roast Prime Rib of Beef au jus, Roasted Chicken Breast with Lemon Butter Sauce, or Pasta Primavera (vegetarian option). Dinner includes roasted Yukon Gold Potatoes, Market Fresh Vegetables, Garden Salad (Ranch & Italian Vinaigrette dressings), rolls & butter, Coffee, Tea & Water, and Lemon Tart with Raspberry Sauce for dessert! We've even thought of the kiddies, so meals for children are also available. Meals for special dietary needs are available upon request. Please make your selections on the Registration Form.

Once again, we will be having our Raffle Prize and 50/50 Cash Drawings to be held after dinner (must be present to win). Tickets are $1 each or 12 tickets for $10, and will be sold whenever the Hospitality Room is open. If you are interested in donating a raffle prize, please contact Patty Kelso via email at

pattykelso@usslyspear.org

or by calling 913-677-1837.

---

Reunion Ends - Sunday, September 7th (noon)

After a fun few days, it's time for goodbyes. The Hospitality Room will be open until about 11:00 a.m. on Sunday to gather and say "goodbye", and to pick up your memorabilia items.

---

REGISTRATION & PAYMENT

Registration Forms are due by July 31, 2014

You can register for the reunion by using the 2014 Registration Form. This form requires that you have Adobe Acrobat Reader installed on your computer. To download the latest version of Adobe's free Acrobat Reader, click here.

Important Notes Regarding Your Registration: Please Read!

Registration forms received after the due date of July 31, 2014, are accepted on a space available basis.

Refund requests must be made in writing, and received on or before August 31, 2014, and are subject to a 10% cancellation fee. Requests received after August 31, 2014, will be handled on a case-by-case basis.

Keep a copy of the completed Registration Form for your records. Once your Registration Form is received, you will be sent a confirmation letter.

Payment Methods

We are offering two ways to pay your reunion fees:

The Registration Form will require you to indicate which payment and form submission you intend to use.

---

How to Submit Your Completed Form

To fill out the form on your computer, download the 2014 Registration Form

To fill out the form by hand, print the 2014 Registration Form - HARD COPY

Pay by Check/Submit Form by Mail

Your check or money order must be accompanied by your completed Registration Form.

In the "Select a Payment Option" at the bottom of the form, select the option (click on the small circle to the left of the description) to pay by check or money order.

Click the "Print Completed Form" button.

Mail your check and form to:

USS L. Y. SPEAR (AS-36) Association

6916 Lamar Ave.

Overland Park, KS 66204

Pay by Credit Card or PayPal/Submit Form by E-Mail

To pay using this option, you must complete the "EMAIL" field on the R

egistration Form.

If prompted by a Security Warning box, click "Allow".

A window will open asking you to indicate whether you use a Desktop/Default Email Application (such as Microsoft Outlook) or Internet Email/Webmail (such as Yahoo). If you are unsure which option to select based upon the guidance provided in the wizard, choose Internet Email/Webmail.

If you use a Desktop/Default Email Application, the wizard will automatically create a new message. All you need to do is send the message to complete the submission. Please note: If your email software program (such as Outlook) is not already open, you may need to open the application and make sure the "send/receive" function moves the message from your "Outbox" to "Sent".

If you use Internet Email, you will be prompted to save the form so that you can attach it to an email message later. This will save the completed form. Please make sure that you give the form a filename and save it in a location that you will remember when you are ready to attach it to your message. (Depending on your operating system or version of Adobe Acrobat, the steps may be slightly different and ask you to either choose the email web program or manually enter the email address. You may need to go to your "Draft" folder in Yahoo, Gmail, etc., to manually send the message.) Log-in to your email, create a new message, attach the completed form, and send to reunions@usslyspear.org.

Once your email has been received, an electronic invoice will be emailed to you. If you have any questions regarding submitting your registration form, feel free to email or call the number on the form.

---

Reunion Checklist

So, you think you're ready for an L. Y. SPEAR reunion?? Read through this checklist to see if there's anything you forgot.

Punch a hole in your 2014 calendar now to make sure your reunion dates are available.
However you decide to travel, make arrangements well in advance (tickets, stop mail, house sitter, dog walker, etc.).

Complete your Reunion Registration Form and submit it as directed on the form ASAP. It must be received no later than July 31, 2014.
To guarantee a hotel room at our negotiated rate, make your hotel reservations no later than August 8, 2014 (July 11th if you want to be entered into the drawing for one night's stay during the reunion for FREE), and remember to jot down your reservation number.
Arrange for personal transportation to/from hotel (shuttle, taxi, rental car, etc.)
If you are able to donate one or more items to the Raffle table, give some thought now to your selection. Contact Patty Kelso (PH: 913-677-1837, EMAIL: pattykelso@usslyspear.org) to let her know what you're donating.
Dig out that boot camp picture of yourself for Friday night's "Back to Boot Camp" photo contest, and find a dungaree shirt.
Remember to pack photos, keepsakes, memorabilia, and all your stories (true or fabricated) from your days on the SPEAR to share with your friends and comrades, old and new.
A week or two before you hit the road, call the hotel (with that confirmation number you wrote down) and confirm your reservations to avoid any unpleasant surprises.
Come prepared for a great time, and we'll do our best to make sure you're not disappointed!

Any questions? Check out "What to Expect at a USS L. Y. SPEAR Reunion".

If you still have questions or need assistance in submitting your Registration Form, please contact Patty Kelso by phone at 913-677-1837 or via email at pattykelso@usslyspear.org.

To print this entire page in Adobe Acrobat format, click here.

See you in Chicago!!