* IT IS AFTER THE DEADLINE TO REGISTER *
2015 USS L. Y. SPEAR (AS-36) Association Reunion
Join us in Virginia Beach!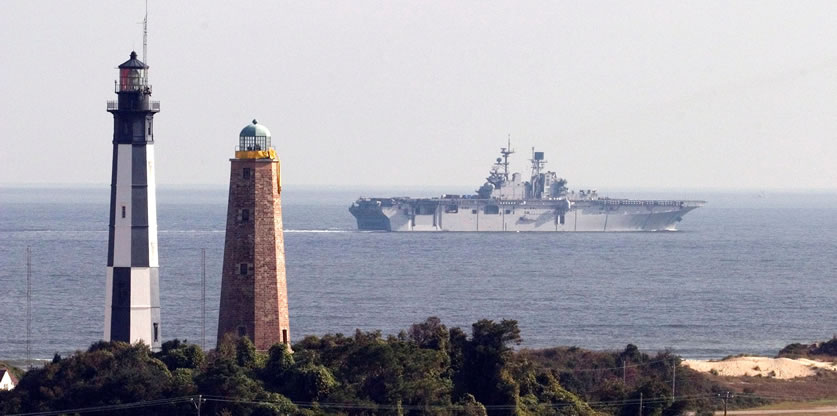 For our 2015 reunion, we will be going back to "the Beach"! We will visit Naval Air Station Oceana, the Military Aviation Museum, and the Joint Expeditionary Base West (formerly Amphibious Base Little Creek), where we will hopefully board a ship. We also have a trip planned to Cape Henry (on the old Fort Story Army Base) to see where the Chesapeake Bay meets the Atlantic Ocean, where the first English colonists landed in 1607 before settling in nearby Jamestown, and the Old Cape Henry Lighthouse.
Join us for what promises to be another GREAT reunion!
When:

September 9-13, 2015

Where:

Virginia Beach Resort Hotel

2800 Shore Drive

Virginia Beach, VA 23451

Room Rates*:

$89/Night for standard (double double) suites

Rate is subject to all current local taxes. This special rate includes a $10 coupon off breakfast menu each morning (for up to two people).

Reservations:

Phone: 800-468-2722

*
When making your hotel reservation, be sure to mention that you are with the USS L. Y. SPEAR Reunion to receive the special negotiated rates. These rates are also good for 3 days prior to the reunion and 3 days immediately following the reunion. Please note that if you do not make your reservations through the group block, you may not receive the $10 breakfast coupon.

Click here for hotel's website.

* IMPORTANT HOTEL INFORMATION *

The hotel reservation cut-off date is 5:00 pm (eastern) on Friday, August 7th to get the negotiated room rate. After that date, the rooms will be released back into the hotel's inventory and you may not get a room or the discounted rate. There are only a limited number of rooms reserved at this special price, so please make your reservations as soon as possible.

* * * HOTEL BONUS * * *

If you make your hotel reservations by Friday, July 10th, your name will be entered into a drawing to have one night's stay during the reunion for FREE! The drawing will be held at the final evening banquet, and you must be present to win.

* * *

Please note: This hotel does have a Debit Card Policy. Please contact the hotel directly if you need more information or further clarification on their Debit Card Policy.

---

AIRPORT INFORMATION

If you will be flying to the reunion, you will want to fly into Norfolk International Airport (airport code ORF). The airport is about 10 miles from the hotel.

Shuttle service is available from the hotel (currently $12/pp each way), and you would need to contact the hotel in advance to request their shuttle service.

---

Reunion Starts - Wednesday, September 9th (noon)

The 2015 Reunion begins with the opening of the Hospitality Room at noon on Wednesday. After checking into the hotel, come enjoy some light snacks while visiting with your shipmates. Dinner will be on your own, but we usually plan to go out to eat as a group. We decide on a location about a month before the reunion and make reservations. Anyone who is interested may join us. Last year, we sampled authentic deep dish pizza in Chicago. There are lots of great seafood restaurants in Virginia Beach to choose from this year!

---

REUNION TOUR - Thursday, September 10th

EVENT A: Tour of Naval Air Station Oceana and

the Military Aviation Museum

(9:00 am - 4:00 pm)

Our day starts with boarding a luxury motor coach at the hotel with our guide to visit Naval Air Station Oceana, the East Coast's only Master Jet Base and home of the Navy's fighter/attack squadron - the F/A-18 Hornets. Squadrons rotate in and out of the base to aircraft carriers operating on lengthy deployments. During our tour of the base, we can catch a glimpse of our Naval Aviators and ground crews in action, as the jets practice their "touch-and-go" carrier landings and take-offs. We will also visit the Aviation Historical Park to see 12 displayed aircraft.

Following our tour of NAS Oceana, we will go to nearby Dam Neck Base for lunch at the Shifting Sands Club, right on the beach!

After lunch, we will visit Virginia Beach's newest attraction, the Military Aviation Museum, located at the former Virginia Beach Airport. This museum is home to one of the largest private collections of World War II and Korean War era fighters, bombers, trainers and seaplanes in the world. Most of the aircraft have been fully restored to their World War II condition and are used for flight demonstration, movie production or commercials. We will enjoy a guided tour of the galleries and can shop in the gift shop which is stocked with all things flight related.

While at the Military Aviation Museum, you can schedule a 15- or 30-minute flight on either a restored 1941 Stearman or a 1940 North American SNJ-2 aircraft. Anyone interested must pay & schedule their flight in advance. If you wish to schedule a plane ride during our Saturday "free time", you can do that as well. For those who live locally, you can schedule a plane ride anytime.

Example of a 1941 Stearman:

Example of a 1940 North American SNJ-2:

For more information on plane rides at the museum, go to http://www.militaryaviationmuseum.org/RideWithUs.html or call the museum's gift shop at 757-721-7767.

After our tour of the museum, it's back on the bus. We should arrive back at the hotel by 4:00 p.m.

Dinner is on your own. The Hospitality Room will be open.

---

REUNION TOUR - Friday, September 11th

EVENT B: Tour of Cape Henry and the Joint Expeditionary Base West (Little Creek-Fort Story)

(9:00 am - 3:00 pm)

For our Friday tour, we will once again board a luxury motor coach at the hotel

.

We will start our day with a quick drive along the Virginia Beach resort strip, where our guide will provide some history of Virginia's largest city and find out the latest happenings on Virginia Beach. We will drive past the historic Cavalier Hotel, as well as the Tidewater Veterans Memorial, a unique structure which pays homage to veterans everywhere.

We will then access the former Fort Story Army Base to visit Cape Henry and will be able to see the First Landing Cross where the English colonists first came ashore in 1607 prior to settling at nearby Jamestown. We will get to walk out onto the overlook to see where the Chesapeake Bay meets the Atlantic Ocean, and where the famous Battle of the Capes took place during the Revolutionary War. We will also stop at the Old Cape Henry Lighthouse. Built in 1792, this lighthouse was active until the late 1800s and is currently a Virginia Historic Landmark. You can choose to climb to the top of the Lighthouse (for a small admission fee) or shop in the gift shop for all things Lighthouse related.

(View from Old Cape Henry Lighthouse)

Next, we will travel to the Joint Expeditionary Base West (formerly the Naval Amphibious Base, Little Creek) and enjoy lunch on base at the CPO Club. After lunch, we will do a windshield tour of the base, which is the major operating base for the Amphibious Forces in the United States Atlantic Fleet.

Home to 27 ships of the Atlantic Fleet's amphibious forces and 15,000 personnel, the JEB is located on 2,120 acres adjacent to the Chesapeake Bay and provides many of the troop and tank carrying ships for the Marine Corps. This base is the largest base of its kind in the world.

Pending availability and approval, we will have the opportunity to tour an active duty ship.

Your name badge must be worn while on both of our tours, but you also need to have your picture ID with you to get on the base. You won't be admitted without it. Also, f

or security purposes, no bags other than pocketbooks or camera cases will be allowed on base.

After our visit to the Joint Expeditionary Base, it's back on the bus. We should arrive back at the hotel by 3:00 p.m. (sooner if we are not able to board a ship).

"Back to the Beach" Pasta Buffet

(6:00 pm)

Join us for a drink or two in the designated banquet room before we have our Friday night buffet. A cash bar will be available throughout the evening.

Our dinner selection will include Fresh Garden Salad Bowl with Assorted Toppings (with Ranch & Italian/Vinaigrette dressings), Chicken Fettuccine Alfredo, Spaghetti Marinara with Meatballs, Fresh Seasonal Vegetables, Bakery Fresh Rolls & Butter, Freshly Brewed Coffee, Tea & Water, and Tiramisu for dessert

.

"Beach Blanket BINGO"

In keeping with our "Back to the Beach" theme, we will have five games of Beach Blanket BINGO! Thankfully, we won't be dressing up this year, but if you're feeling brave, you are welcome to wear your best Frankie or Annette swimsuit! Fun Fact: This year marks the 50th Anniversary of that movie's release in 1965!

Prizes will be awarded for each game winner, with the final "Cover-All" game winner receiving $100 cash! If you paid for the buffet meal, you will receive one 5-game BINGO sheet pack for free. If you did not pay for dinner (but arriving in time for BINGO), the 5-game sheet pack is $5.00. Anyone who wishes to purchase additional 5-game sheet packs (to increase their chances of winning), may do so for $5.00/pack. For you diehard BINGO players, feel free to bring your "lucky charms" to increase your chances of winning!

---

Saturday, September 12th

Business Meeting (8:30 am - 9:00 am)

Our Annual Business Meeting will be held in the Hospitality Room. After that, the rest of the day is on your own

.

Group Photos (5:30 pm)

Be sure to get back in time to clean up for our group photographs. Muster in the designated area for our group shots (we'll post the location in the Hospitality Room).

Cocktail Hour & Banquet Dinner

After our photo shoot, join us in the Banquet Room to unwind with a drink or two. Cocktails will be available from the cash bar starting at 6:00 p.m. and dinner will be served at 7:00 pm. Our final evening's Banquet meal will be a plated dinner choice of Grilled Flat Iron Steak with Mashed Yukon Gold Potatoes, Grilled Chicken Breast with Roasted Au Jus & Saffron Rice Pilaf, or Baked Stuffed Portobello Mushroom Cap filled with Spinach & Roma Tomatoes, Roasted Garlic and Fontina Cheese over Julienne Vegetables and Red Pepper Polenta (vegetarian option). Dinner includes Fresh Garden Salad (with Ranch & Italian Vinaigrette dressings), Chef's Choice of Vegetables, Bakery Fresh Rolls & Butter, Freshly Brewed Coffee, Tea & Water, and Petit Cut New York Style Cheesecake for dessert! Meals for special dietary needs are available upon request. Please make your selections on the Registration Form.

Once again, we will be having our Raffle Prize and 50/50 Cash Drawings to be held after dinner (must be present to win). Tickets are $1 each or 12 tickets for $10, and will be sold whenever the Hospitality Room is open. If you are interested in donating a raffle prize, please contact Patty Kelso via email at

pattykelso@usslyspear.org

or by calling 913-677-1837.

---

Reunion Ends - Sunday, September 13th (noon)

After a fun few days, it's time for goodbyes. The Hospitality Room will be open until about 11:00 a.m. on Sunday to gather and say "goodbye", and to pick up your memorabilia items.

---

* * * TOUR BONUS * * *

This year, we are able to offer a FREE TOUR for each tour day! If you sign up for a tour, your name will be entered into a drawing to receive that tour for FREE! For each paid tour (you and your guests), your name will be entered that many times into the daily drawing.

The drawings will be held during the Thursday and Friday tours. Must be present to win.

To qualify for the FREE TOUR drawings, your Reunion Registration Form must be postmarked or emailed by Friday, July 10th.

***

---

REGISTRATION & PAYMENT

Registration Forms are due by July 31, 2015

To attend ANY part of the reunion, you MUST send in a Reunion Registration Form. Unregistered guests are not be permitted in the Hospitality Room due to liability reasons (hotel policy). This form requires that you have Adobe Acrobat Reader installed on your computer. To download the latest version of Adobe's free Acrobat Reader, click here.

Important Notes Regarding Your Registration: Please Read!

Registration forms received after the due date of July 31, 2015, are accepted on a space available basis.

Refund requests must be made in writing, received on or before August 31, 2015, and are subject to a 10% cancellation fee. Please note that NO REFUNDS FOR TOURS can be given if received after the August 31st deadline, as we must make final payment to the tour company by this date.

Keep a copy of the completed Registration Form for your records. Once your Registration Form is received, you will be sent a confirmation letter.

Payment Methods

We are offering two ways to pay your reunion fees:

Mail your form along with either a check or money order, or

Email your form and be sent an invoice to pay by either credit card or PayPal account.

The Registration Form will require you to indicate which payment and form submission you intend to use.

PLEASE NOTE:

The two methods listed above are the ONLY way to pay your reunion registration fees. DO NOT SEND CASH or MONEY VIA ANY OTHER ELECTRONIC SERVICE, as it will be rejected. If you want to pay electronically, you will be sent an invoice through PayPal.

---

*** How to Submit Your Completed Form ***

To fill out the form on your computer, download the 2015 Registration Form

To fill out the form by hand, print the

2015 Registration Form - HARD COPY

Pay by Check/Submit Form by Mail

Your check or money order must be accompanied by your completed Registration Form.

In the "Select a Payment Option" at the bottom of the form, select the option (click on the small circle to the left of the description) to pay by check or money order.

Click the "Print Completed Form" button.

Mail your check and form to:

USS L. Y. SPEAR (AS-36) Association

6916 Lamar Ave.

Overland Park, KS 66204

Pay by Credit Card or PayPal/Submit Form by E-Mail

To pay using this option, you must complete the "EMAIL" field on the R

egistration Form.

If prompted by a Security Warning box, click "Allow".

A window will open asking you to indicate whether you use a Desktop/Default Email Application (such as Microsoft Outlook) or Internet Email/Webmail (such as Yahoo). If you are unsure which option to select based upon the guidance provided in the wizard, choose Internet Email/Webmail.

If you use a Desktop/Default Email Application, the wizard will automatically create a new message. All you need to do is send the message to complete the submission. Please note: If your email software program (such as Outlook) is not already open, you may need to open the application and make sure the "send/receive" function moves the message from your "Outbox" to "Sent".

If you use Internet Email, you may be prompted to save the form so that you can attach it to an email message later. This will save the completed form. Please make sure that you give the form a filename and save it in a location that you will remember when you are ready to attach it to your message. (Depending on your operating system or version of Adobe Acrobat, the steps may be slightly different and ask you to either choose the email web program or manually enter the email address. You may need to go to your "Draft" folder in Yahoo, Gmail, etc., to manually send the message.) Log-in to your email, create a new message, attach the completed form, and send to

reunions@usslyspear.org.

Once your email has been received, an electronic invoice will be emailed to you. If you have any questions regarding submitting your registration form, feel free to email or call the number on the form.

---

Reunion Checklist

So, you think you're ready for an L. Y. SPEAR reunion?? Read through this checklist to see if there's anything you forgot.

Punch a hole in your 2015 calendar now to make sure your reunion dates are available.

However you decide to travel, make arrangements well in advance (tickets, stop mail, house sitter, dog walker, etc.).

Complete your Reunion Registration Form and submit it as directed on the form ASAP. It must be received no later than July 31, 2015.

To guarantee a hotel room at our negotiated rate, make your hotel reservations no later than August 7, 2015 (July 10th if you want to be entered into the drawing for one night's stay during the reunion for FREE), and remember to jot down your reservation number.

To qualify for a free tour, get your Reunion Registration Form in the mail no later than July 10th.

Arrange for personal transportation to/from hotel (shuttle, taxi, rental car, etc.)

If you are able to donate one or more items to the Raffle table, give some thought now to your selection. Contact Patty Kelso (PH: 913-677-1837, EMAIL: pattykelso@usslyspear.org) to let her know what you're donating.

Remember to pack photos, keepsakes, memorabilia, and all your stories (true or fabricated) from your days on the SPEAR to share with your friends and comrades, old and new.

A week or two before you hit the road, call the hotel (with that confirmation number you wrote down) and confirm your reservations to avoid any unpleasant surprises.

Come prepared for a great time, and we'll do our best to make sure you're not disappointed!

Any questions? Check out "What to Expect at a USS L. Y. SPEAR Reunion".

If you still have questions or need assistance in submitting your Registration Form, please contact Patty Kelso by phone at 913-677-1837 or via email at pattykelso@usslyspear.org.

To print this entire page in Adobe Acrobat format, click here.

See you in Virginia Beach!!